It's the final day of Joi's Mini Blog Challenge. Whew I made it. 7 STRAIGHT DAYS OF BLOGGING. Rounding out the challenge is "7 Blogs To Follow and Why".
TheSITSGirls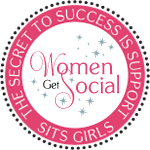 Their blog is something like the bloggers bible.
Tiffany and
Francesca are the women behind
a community of 40,000 strong bloggers and the Bloggy Boot Camp.
I frequent this blog weekly. I've learned so much over there!
FOLLOW TheSITSGirls
AphroChic
AphroChic is a husband-and-wife team Jeanine Hays and Bryan Mason. They started interior design blog, a place for Jeanine, a former attorney, and Bryan, a Ph.D. student,
to escape the stresses of work and share their passion for culture and design.
AphroChic offers home decor products inspired by cultures around the globe,
AphroChic sets out to prove that ethnic heritage and culture can go hand in hand with the luxurious and the modern. Their accent chairs are swoon worthy.
FOLLOW AphroChic
Copy Cat Chic

Copy Cat Chic is the brainchild of +Reichel Broussard.
Her blog is the result of bargain shopping for items for a house
she purchased in the uber expensive San Francisco Area.
Copy Cat Chic are high/low savvy specialist. Yours truly,
MyFInessedLife has been featured on Copy Cat Chic (see here and here).

FOLLOW Reichel here and here
Wendys Lookbook

Wendy is a fashion blogger that hands down has the genre on lock.
I love that her look encompasses edgy, trendy, and classic....but wait for it
still suitable for a woman of a certain age! OMG how does she do it?
I do not know, but I have no qualms jocking her style.

FOLLOW Wendys Lookbook
Joel Osteen Ministries
I am not overly religious but I have a strong faith in GOD
I have no doubt that HE sustains me and carries me.
My faith in GOD has gotten me through it all.
I am forever grateful and cannot praise HIS name enough.
I'm saying all this to say Joel Osteen is an amazing guy!
WE ALL NEED NOURISHMENT--are still searching? It can't hurt to check out his ministry.
Follow Joel Osteen Ministries
Ask Anna
If you ever wonder how to clean your oven, to remove a carpet stain,
to make your laundry whiter,
or to have your toilet be self-cleaned simply
Ask Anna.
Her blog is packed with cleaning and organization tips.
The perfect place to answer everyday questions.
FOLLOW Ask Anna.
My Finessed Life is my blog. I have 3 full time jobs: my career in dentistry, I'm a wife,
and a mother to a beautiful 3year old girl (not necessarily in that order).
I blog about

improving health, finances, home decor, beauty and fashion. That's right I am putting my mess in the universe in hopes that balance will no longer elude me.
Perhaps I can help you do a little finessing too.
Join me on my journey to finesse my life.
FOLLOW MyFInessedLife