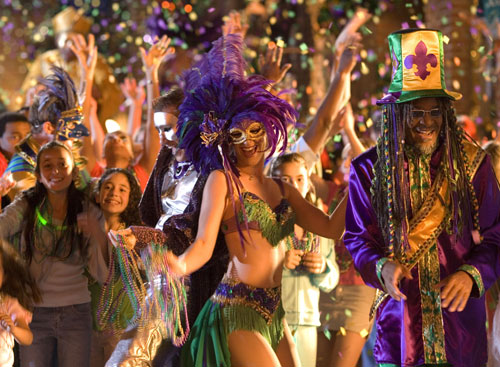 Happy Fat Tuesday! Here is a recipe that totaly partakes in the indulgence:
Chicken and Shrimp Jambalaya
by Ruby Le Bois
Ingredients
2 3lb Whole Chicken
salt
freshly ground pepper
1lb of smoked raw ham (can substitute 1lb of smoked turkey ham)
4tbsp of lard or bacon fat (can substitute 4tbsp vegetable shortening)
1/2 cup flour
3 medium onions finely sliced
2 green peppers seeded and sliced
1 1/2 lbs ripe toamto skinned and chopped
2-3 garlic cloves crushed
2 tsp fresh thyme chopped or 1tsp dried thyme
24 medium veined and peeled shrimp
3 cups uncoverted white long grain rice (I use brown rice)
2-3 dashes of Tobasco sauce
1 bunch of scallions finely chopped
3tbsp chopped fresh parsley
Cut each chicken into 10 pieces and season with salt and pepper
Dice ham coarsely, discard rind and fat
In a large pan or flame proof casserole, melt the bacon fat and brown the pieces of chicken. Lift them out with slotted spoon leaving fat behind. Set aside
Turn heat down sprinkly flour in the pan and stir continuously until the
roux
turns light golden brown.
Put Chicken back into the pan. Add diced ham, onions, green peppers, tomatoes, garlic and thyme and cook stirring regularly for 10 minutes, then stir in shrimp.
Stir rice into pan with 4 1/2 cups of cold water. Season with salt, pepper, and tobasco sauce to taste. Bring to a boil and cook over low heat until the rice is tender and the liquid is fully absorbed. Add more water if it looks as if it's drying out before its completely cooked.
Mix the scallions and parlsley into the finished dish, reserving a little for garnish.
Serve Hot.
*Please be advised that this recipe is so good you will smack yo mama! LOL
FINESSED
eats